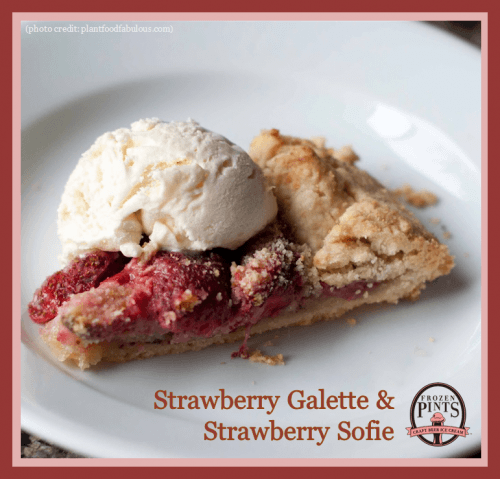 [ssba]
Strawberry Sofie + Farmhouse Strawberry Galette
This rustic pastry recipe has been adapted from the Plant Food Fabulous blog.
Ingredients:
Pastry:
1 1/2 cup flour
2 teaspoons sugar
1/2 teaspoon salt
2/3 cup plus 1 tablespoon butter, cubed and cold
2-4 tablespoons ice water
Filling:
1/2 cup ground almonds, lightly toasted
1 tablespoon flour
1/4 cup sugar plus more for dusting
1 1/2 pounds strawberries, hulled and halved
Topping:
1 pint Strawberry Sofie ice cream
Directions:
1. Begin with the pastry. Combine flour and salt in a large bowl. Add cubed butter and work it into the dough with a pastry cutter until it resembles breadcrumbs. Add the water, 1 tablespoon at a time, until the dough comes together. Wrap in plastic and form a disk. Let the disk rest for 30 minutes in the refrigerator. Preheat the oven to 400º.
2. Clean and halve the strawberries. Toast the ground almonds lightly in a dry pan (approx. 4 minutes). Add the flour and sugar to the almond meal.
3. Roll out the chilled pastry and set it on a sheet pan with parchment underneath. Spread the almond mixture on the pastry leaving a generous border. Toss the strawberries with a tablespoon of sugar and then lay them on top. Roll the strawberries around in the almonds to distribute the toasted flavor if desired.  Fold up the sides of the galette.
4. Bake at 400º for 25 minutes, or until crust is lightly golden.
5. Serve warm with a small scoop of Strawberry Sofie ice cream.