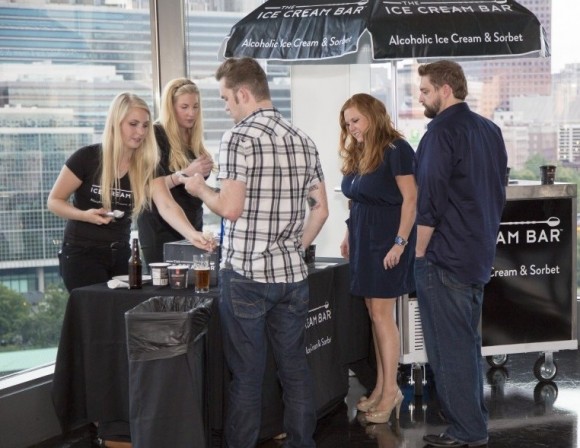 Every Launch Party should have a Helipad
Last week friends, family, and local media joined us to celebrate the official launch of The Ice Cream Bar.  Guests were stunned not only by the incredible rooftop views from Ventanas, but from the ABV packed into each pint of our new line.  Our Ice Cream Bar-istas dished up Bourbon Butter Pecan, White Russian, Brandy Alexander Chip, and Mojito Sorbet – our first dairy-free option.  Signature cocktails were available at the bar as well as a selection of craft brews.  We even had one of our sleek new freezers on display – complete with a fresh wrap of ICB branding, those models will hit stores over the next couple of weeks.
The energy of the evening was perfect – just what you'd expect if you mixed a cocktail party and an ice cream social. Some guests took the opportunity to capture the cityscape from one of the best vantage points in town – don't worry, there's no drinking (or eating) allowed on the Helipad. Safety first. Then incredible instagram pics. #ICBLaunch
After a few libations, most retired to the patio to watch the sunset. It was a glorious night.
We'd like to extend a special thanks to all who helped make the event a success: Legacy Restaurant Partners, Wild Heaven Craft Beers, Green Flash Brewing, Cathead Vodka, and Larceny Bourbon.  An extra scoop goes to Caren West PR and Savannah Distributors for continuing to help get this cutting edge product into minds, stores and mouths. Cheers!