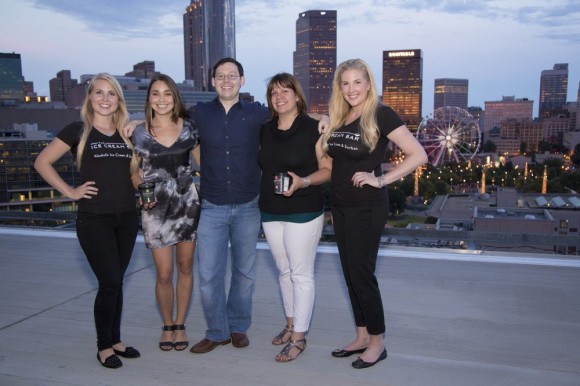 Q&A with the Founders
Founders Ari & Aly share some inside perspective about the evolution of the company and the new line of spirited products:
How did the idea for The Ice Cream Bar come about?
Ari: The recent source comes directly from our customers – the first question we're inevitably asked about Frozen Pints is, "Can I get a buzz off the ice cream?". We wanted to address that need while staying true to our roots of high quality flavors and ingredients, so a line based on classic cocktails was a natural next step.  But I like to trace the origin farther back to my days in college. Before I fell in love with craft beer I got big into mixology, and I even built a bar in my dorm room! It was complete with a fridge for fresh fruit and a reversible bookcase with a false back to hide the booze (hopefully the statute of limitations is up on that one). I guess you could say my alcohol-related entrepreneurial spirit started way back then.
Aly: When you walk into a bar you don't always want a beer, right? We've planned to expand in to liquor-based flavors for a long time, but wanted to wait until we could do it the right – best – way. A lot of cocktails and liqueurs really lend themselves to dessert form, so it's really a natural next step. The hard part is narrowing down which flavors to make!
What does The Ice Cream Bar mean for Frozen Pints? Is it replacing or are you refocusing?
Ari: Neither! We're complementing. When you go to a bar you have your choice of different beverages, and we think it shouldn't be any different with ice cream. Sometimes you feel like a beer, but sometimes you want a cocktail – now we have you covered either way.
Aly: We developed a new brand for this line because we didn't want to compromise Frozen Pints – we love the craft beer community and we'll continue to release new Frozen Pints flavors and support our brewer friends. We have a few collaborations and seasonals on the horizon, but now we'll be able to do the same with other kinds of alcohol. Given the uniqueness of our business, expanding into liquor-based products will help us grow Frozen Pints as well.
What are some of your best new flavors?
Ari: The White Russian is a personal favorite of mine. It's a drink I've always enjoyed – it's a bit of a classic, and it's sweet but balanced when prepared properly. Just like with Frozen Pints, we want to stay true to the original flavor of the drink, and think we nailed it with that one. Hopefully the dude abides.
Aly: They're all so different. You can really taste the Bourbon in the Bourbon Butter Pecan, and the roasted nuts really complement the sweet, caramel notes. The Mojito Sorbet is really refreshing – we use fresh mint leaves, which gives it the green hue and bright flavor.
What are some of the big differences between Frozen Pints and The Ice Cream Bar?
Ari: One is based on craft beer and the other on mixology. Both are bursting with flavor – and unique ones at that – but ICB certainly has an extra kick with the higher alcohol content.
What's been the biggest challenge in developing this new line?
Ari: Creating ice cream with an alcohol content as high as ours isn't easy. We spent a lot of time working on our base mix to ensure we could tolerate the ABV and stay solid at similar temperatures to standard ice cream. It does melt a little bit faster than the "virgin" stuff, but I'm proud of how close we were able to get.
Aly: We learned a lot about the alcohol industry through our launch of Frozen Pints, which made many steps easier this time around. Key word – easier. There were still some logistic hurdles to navigate, but we're with a great distributor partner, Savannah Distributing, and have some solid flavors lined up to share.   
Where can we find it?
Ari: We have a store locator on www.theicecreambar.com – it will initially roll out to liquor stores in metro Atlanta and surrounding areas.
Aly: It's available for order through Savannah Distributors. We're always looking for new locations, so if your local package store doesn't carry it, please let us know: scoop@theicecreambar.com .