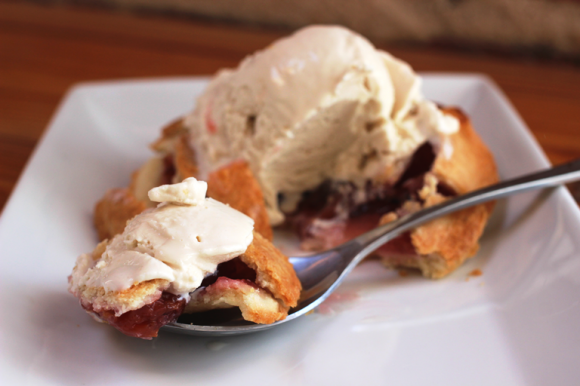 [ssba]
Cranberry Rhubarb Pie and Pumpkin Ale
Serve this combination of bright Fall flavors at your next gathering. Adapted from Taste of Home.
Ingredients:
1-1/2 cups sugar
3 tablespoons all-purpose flour
1-1/2 cups sliced fresh or frozen rhubarb, thawed and drained*
1-1/2 cups fresh or frozen cranberries, halved
1-1/2 cups chopped peeled tart apples
1/4 cup melted butter
Pastry for double-crust pie (9 inches)
1 pint Pumpkin Ale Ice Cream
Directions:
Preheat oven. In a large bowl, combine sugar and flour; stir in rhubarb, cranberries and apples. Line a 9-in. pie plate with bottom pastry; add filling evenly.
Cover with crust. A lattice crust is preferred. Seal and flute edges. Brush crust with melted butter. Bake at 450° for 10 minutes. Reduce heat to 350° bake 40 minutes longer or until filling is bubbly. Cover edges loosely with foil to prevent overbrowning if necessary.
Let cool uncovered for ~20 mins. Slice a portion of desired size, and top with 2-3oz of Pumpkin Ale Ice Cream. Serve immediately.
Note: If using frozen rhubarb, measure rhubarb while frozen, then thaw completely. Drain in a colander, but do not press liquid out before mixing in.