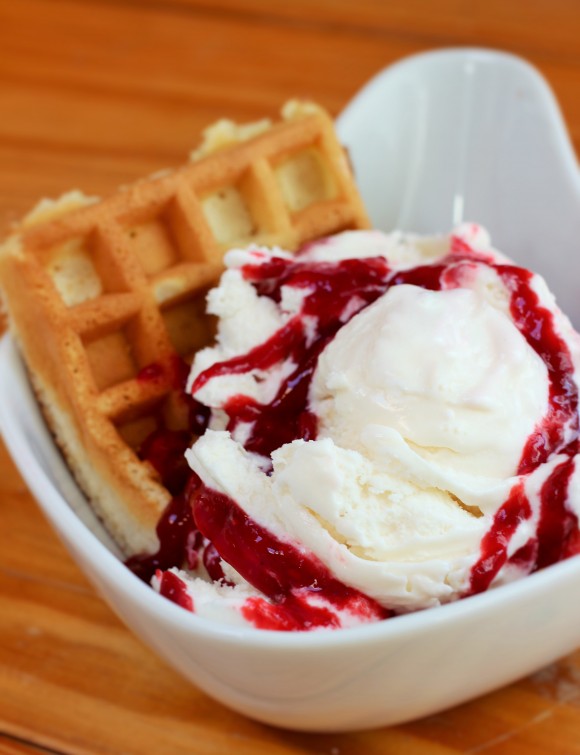 [ssba]
Belgian Beer Waffle Sundae
The Belgians do a couple things exceptionally well: Waffles and Beer. We've combined them for the ultimate ice cream sundae.
Ingredients:
Waffle:
2 cups self-rising flour
1 bottle (12oz) beer (we like Triple Karmeleit)
½ cup unsalted butter, melted
¼ cup milk
2 eggs, separated
1 tablespoon honey
1 teaspoon vanilla extract
Lindemans Framboise Lambic Sauce (from Merchantduvin.com):
2 pints fresh raspberries
0.25 cup sugar
1 tsp lemon juice
2 tsp Lindemans Framboise Lambic
1 pint Peach Lambic ice cream
Directions:
Begin with sauce. Combine raspberries and sugar in saucepan. Cook under low heat until raspberries are broken down – about 10 minutes. Remove from heat and add remaining ingredients. Strain to remove seeds. Set aside.
Preheat a waffle iron according to manufacturer's instructions. Combine flour, beer, butter, milk, egg yolks, honey, and vanilla in a large bowl; stir until the mixture is smooth. In a separate bowl, beat egg whites until stiff peaks form. Gently fold egg whites into batter.
Spray preheated waffle iron with non-stick cooking spray. Ladle the batter into waffle iron. Cook the waffles until golden and crisp.
Cut waffles to desired size and place in a bowl. Drizzle 2-4oz Raspberry sauce over warm waffle. Scoop 1-2oz Peach Lambic ice cream on top. Serve immediately.